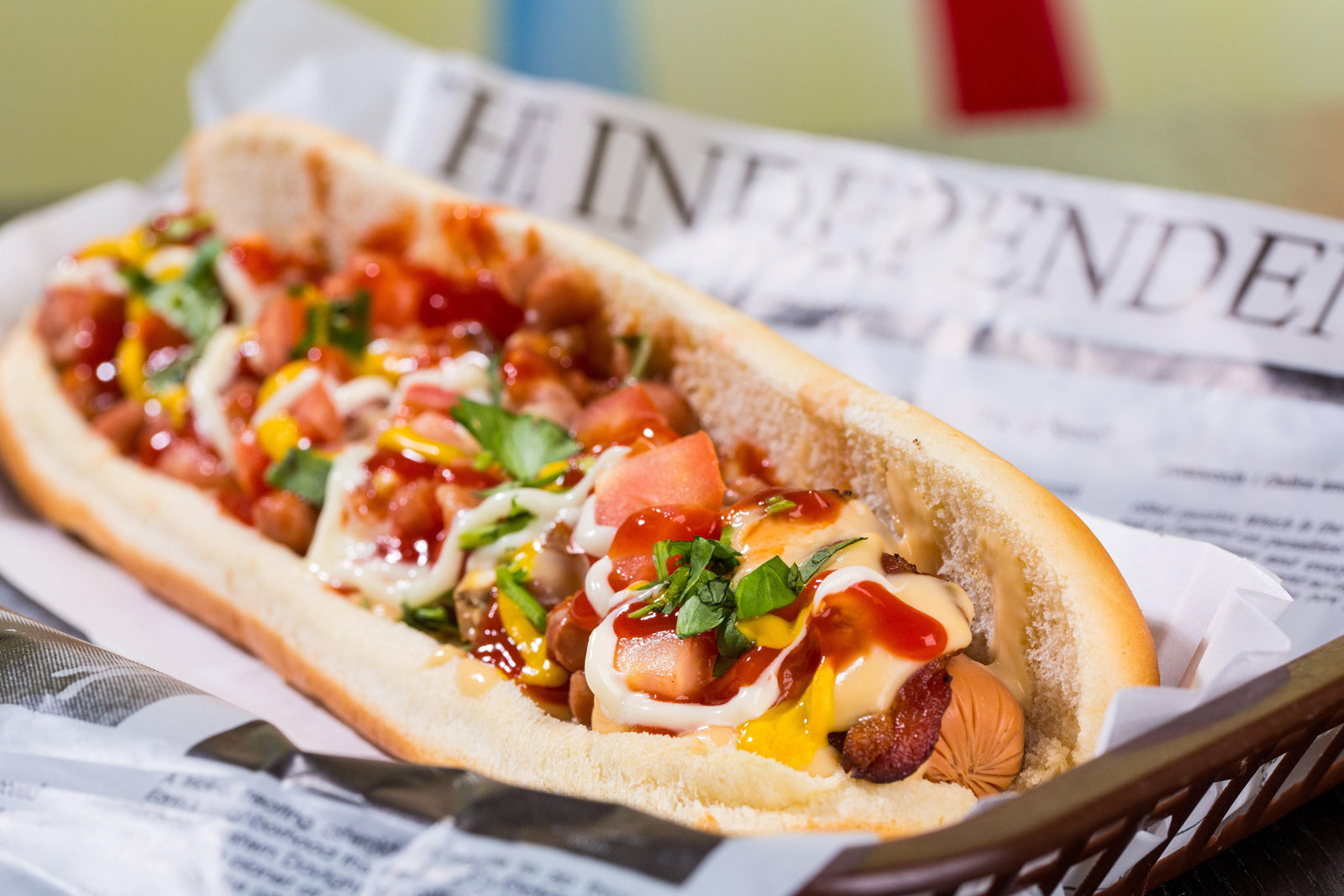 If you've been to Los Angeles, chances are good that you've heard of Pink's Hot Dogs. This legendary restaurant has been serving hot dogs to Californians for over eighty years, and they have no intention of slowing down any time soon. 
With its nostalgic storefront and classic atmosphere, Pink's has remained true to its roots throughout its decades in business. And with a menu that features nearly forty unique items, Pink's continues to serve up innovative hot dogs to locals and tourists alike. 
The long lines that wrap around the block at Pink's give the right impression; the restaurant is a Hollywood classic worth waiting for the next time you're in the city. And if you're lucky, you may catch a glimpse of your favorite celebrity in line right alongside you.
Bring a slice of Pink's Hot Dogs into your home with this nostalgic print from G.O.A.T. House of Creative.
1939: Pink's Hot Dogs is Founded
In 1939, husband and wife team Betty and Paul Pink were struggling to make ends meet as the Great Depression took its toll on the nation. With no jobs available, the duo opened a pushcart in Los Angeles's Fairfax District as a last-ditch effort to support their family.
With little start-up money, Betty and Paul decided to sell chili dogs, since they cost very little to make and thus could be sold at a low cost. As soon as they hit the streets, the popularity of the Pinks' pushcart skyrocketed, with customers coming back daily for another chili dog. 
With such a healthy response, Betty and Paul kept the cart open, eventually upgrading in 1946 to the flagship restaurant that attracts foodies from all over the world today.
The Chili Dog Recipe That Started it All
Betty and Paul's classic chili dog recipe is ultimately what gave Pink's its first shot at success. The pair used custom-made Hoffy-brand stretch hot dogs, each measuring up to nine inches for a filling lunchtime meal. The Hoffy hot dogs also featured all-natural casings—a rarity at the time—for an overall taste that was more satisfying and less artificial. This natural casing is what gives each hot dog from Pink's its iconic snap with every bite.
Once the hot dogs were made, they were then placed onto a steamed bun and topped with not only mustard and onions but also a healthy scoop of chili made from Betty's secret family recipe. With their dedication to using the best ingredients they could find, Betty and Paul unwittingly created a recipe that would keep customers returning time and time again. 
You can still enjoy this legendary chili dog at Pink's today, still using Betty's personal chili recipe and all-natural stretch dogs for the most enjoyable eating experience.
Pink's: Still Going Strong After Eighty Years
After eighty years in business, Pink's is still going strong today. On any night of the week, you can find the line for Pink's wrapped all around the block in the Fairfax District; each customer just waiting to sink their teeth into one of the restaurant's iconic stretch dogs.
Over the years, Pink's has made a few changes. No longer headed by its founders Betty and Paul, Pink's is now run by their children—Richard and Beverley, who took over the restaurant in 1985. Since this shift in management, Pink's has added nearly forty items to its menu, including a dozen hamburger variations for those who want to branch out from their regular hot dog order. 
With its status as an iconic Hollywood restaurant (not to mention its popularity with TV and movie stars), Pink's has become a favorite for features in everything from movies, to TV shows, to travel documentaries. The well-established name, plus the restaurant's longevity, has cemented Pink's as a titan in the Hollywood food scene. 
Over the years, Pink's has branched out into new territories, now boasting fifteen locations in numerous cities, including:
Las Vegas
New York
Hawaii
Miami
Cleveland
The Phillippines 
The Secret to Pink's Success
After decades in business, the owners of Pink's still attribute its massive success and longevity to the tastiness of its hot dogs, with their signature snap at every bite. This commitment to providing only the best-tasting hot dogs to each customer, plus the wide range of menu combinations, has set Pink's apart from traditional hot dog stands. 
With their continued popularity and status as a must-see Hollywood destination, it's unlikely that Pink's will be slowing down any time soon.
Classic Hollywood Ambience and Atmosphere
Part of what makes Pink's special is the restaurant's atmosphere, which has changed very little since the building was permanently built in 1946. The place is reminiscent of decades of witnessing the ups and downs of show business in one of the busiest cities in the world. 
The iconic bright pink storefront with its red and white striped awning has remained unchanged since the restaurant's opening and evokes a sense of nostalgia for each patron who steps into its shade. The open kitchen and curbside order station are perfectly Californian, letting visitors soak in the sun as they pick their order from the restaurant's extensive menu. 
Guests can grab a hot dog and sit at one of the classic outdoor dining tables outside for the full experience, or try to spot their favorite celebrities in the hundreds of headshots that adorn the walls of the restaurant. With such an iconic atmosphere, the restaurant's nostalgic feel makes the eating experience even more enjoyable.
The Extensive, Star-Studded Menu
One of the things that make Pink's such an iconic restaurant is its extensive menu. With nearly forty flavor combinations available, Pink's has proven that its title as the world's best hot dog shop is not limited to the original chili dog. Some of the restaurant's best-selling flavors include:
Philly cheesesteak dog
Polish pastrami dog
Mushroom Swiss cheese dog
New York dog
Bacon chili chees dog
With everything from mushrooms, to bacon, to nacho cheese, guests can pick the menu item that features their favorite ingredients. Or, choose your favorite celebrity and order the special named after them.
In addition to hot dogs, guests can also order a burger from a list of a dozen flavor combinations. The restaurant also features sides such as French fries, onion rings, tortilla chips, or chili fries. Finish out your meal with a slice of coconut cake or chocolate fudge cake for the ultimate Pink's eating experience.
Celebrity Participation
With its location in the Fairfax District of Los Angeles, Pink's has become a hotspot for musicians, actors, and entertainment industry professionals alike. Hundreds of headshots decorate the walls of the restaurant, each featuring a signature and praise for the iconic restaurant. 
Some celebrities have gone one step further and worked with the chefs to create a specialty menu item inspired by their favorite flavors. These names include stars such as:
Giada de Laurentiis
Martha Stewart
Drew Barrymore
Marlon Brando
Emeril Legasse
Ozzy Osborne
Rosie O'Donnell
Waiting in line to order a hot dog at Pink's, keep an eye open for your favorite celebrities waiting right alongside you.
Pink's Pop Culture Impact
As such a celebrity hotspot, it's no wonder that Pink's has found its way into the pop culture scene. The restaurant has been featured in numerous movies and television shows, including:
Hell's Kitchen
90210
The Amazing Race
The Late Late Show with Craig Ferguson
With its status as a flagship Hollywood restaurant, Pink's will be forever immortalized in the work of such entertainment titans, making it a must-visit stop in Los Angeles.
Bring a Slice of Pink's Home with Custom-Made Artwork
While you may not be able to visit Pink's in person any time soon, there are other ways to celebrate your love for the restaurant and all things Los Angeles. With custom-made artwork from G.O.A.T House of Creative, you'll be reminded of the nostalgic charm of Pink's every time you enter your home.
Artist Morgan perfectly captures the essence of Pink's in this one-of-a-kind print. Featuring the signature hot pink wall and restaurant sign against a backdrop of California palm trees, Morgan easily evokes the feeling of waiting in line at the restaurant on a warm summer evening. Using a palette of warm tones, the pinks, reds, and oranges in this print capture the charm and nostalgia of the restaurant.
This custom-made print is available in a variety of sizes and mediums. Choose a small paper print or art card to add to a gallery wall, or select a larger premium canvas to act as a focal point in your home. Whether you want to immortalize your recent trip to Los Angeles or are simply a fan of Hollywood culture, this Pink's Hot Dogs print is the perfect piece to add to your home gallery.