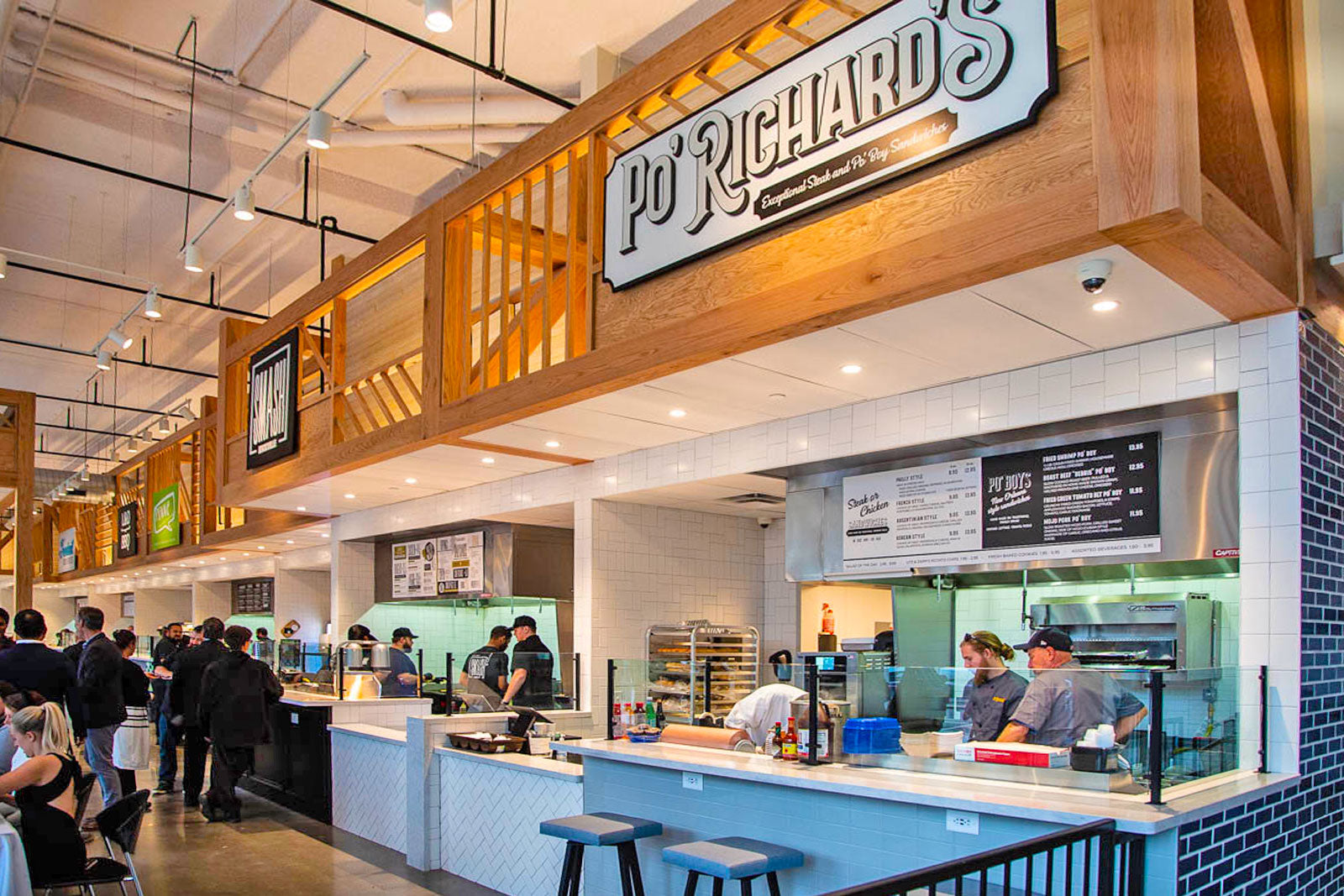 Meet Knoxville's all new Marble City Market! With 11 locally-owned artisanal food destinations, a full bar and two Top Golf Swing Suited Simulators, it's sure to be a fun day out for everyone!
Options range from big-ass Po'Boys and delicious deli-style sandwiches to Detroit-style pizza and Southern-Korean fusion cuisine.
Highlights include:
The Corners Pizza
A Detroit-style pizza that features a thicker, cheesy crispy crust with the sauce on the top. In addition to traditional toppings, The Corners offers buffalo wing pizza, Cuban pizza, and sweet dessert pizza with cream cheese and guava puree.
Paysan Sandwich Shop
The owners of Paysan Bread & Bagels on Tyson Street have opened a sandwich shop in the food hall. Featured items include a Cuban sandwich, Italian sub, and fried bologna sandwich. The menu also includes a portabello sandwich, and a Paysan club with turkey, ham, soppressata, Swiss cheese, garlic aioli, arugula, and roasted red peppers.
Myrtle's Bakehouse
Cookies the size of your face! Try the "Pucker Up," a sugar cookie with lemon icing, or the "Scruffy City" made with espresso chips, toffee, and pecans.
Po'Richard's
Grab yourself a "big-ass delicious sandwich" from Po'Richard's. Every sandwich is handmade and treated like a work of art. 
Frank & George's Bar
Named after the brothers who started Gay Street's iconic Regas Restaurant, the bar includes a variety of premium cocktails, local beer, and shareable punch bowls.
The Donut Theory
Knoxvillians need to look no further for gluten-free treats. More than just sweet treats, The Donut Theory will also be offering gluten-free fried chicken and gluten-free macaroni and cheese.
Smash Knoxville
Smashed burgers are just what they sound like - smashed down to create a chemical change that caramelizes the patty. Burgers can be customized to individual tastes starting with a choice of smash chicken, smash burger, or black bean and chickpea patty.
Penne for Your Thoughts
Knoxville's favorite Italian-American fusion food truck has put down roots inside Marble City Market.
Lake and Oak BBQ
Acclaimed Atlanta chefs Todd Richards and Joshua Lee serve up dishes rooted in soul and southern cuisine.
Seoul Brothers
Siblings Vic and Josh Scott serve up popular Korean-fusion foods inspired by their mother's dishes.
Fantail Fish and Frites
Twice-baked fries with a "shatteringly crisp" batter.
Gekko Poke & Ramen
A unique "hibachi and sushi experience by chef Jack Bai. Comes with five poke bowl options, including grilled eel, plus three styles of ramen and street tacos.
A high energy vibe and plenty of options make Marble City Market is one of the coolest things to come to Knoxville in a while. Perfect for either a fun lunch date with your friends or a business meeting.