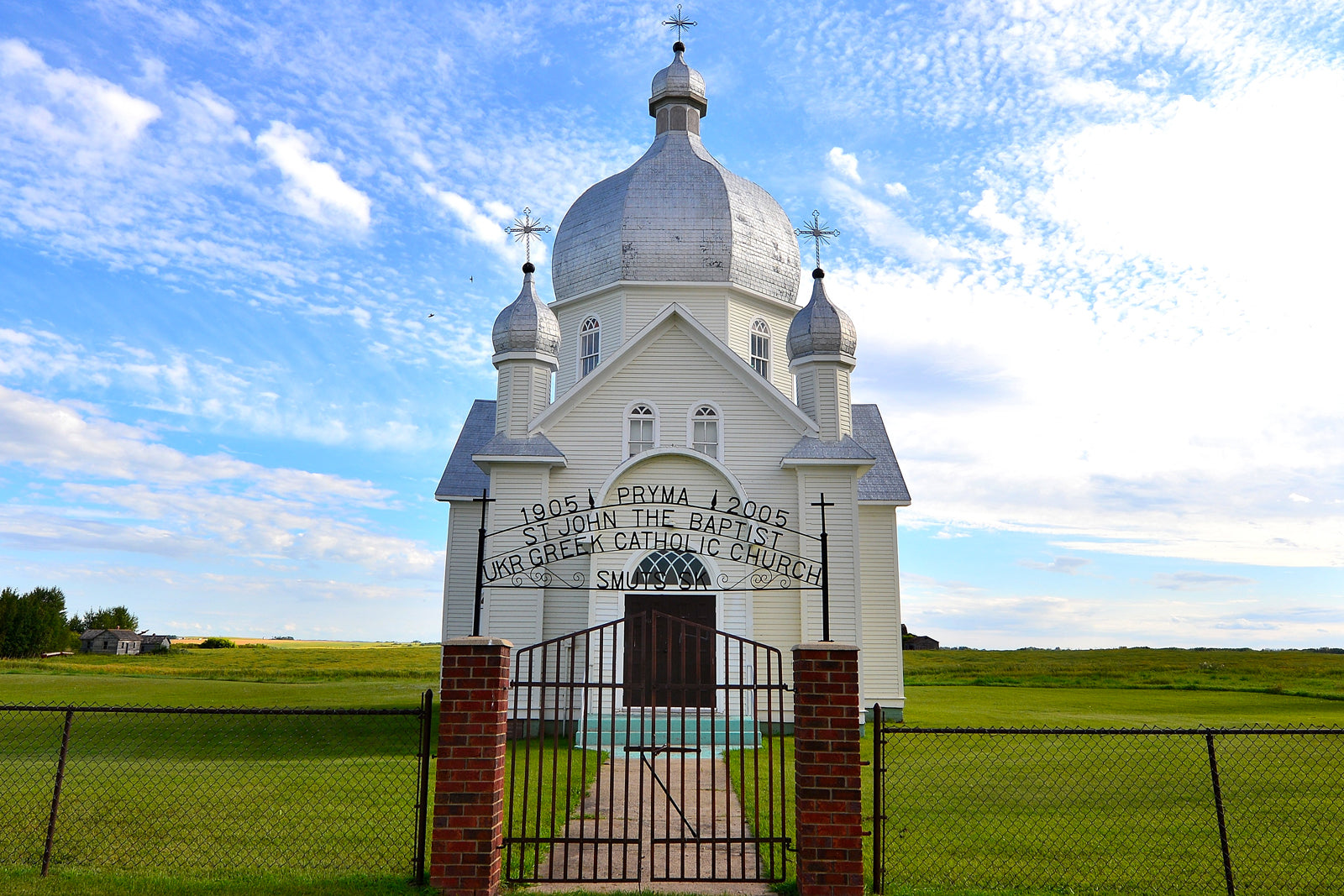 The Church of St. John the Baptist, with its proud central dome and two smaller cupolas announcing something more than the Greek Ukrainian Roman Catholic faith practiced by within its wooden walls, rises unexpectedly from the Canadian prairie west of the ghost town of Smuts in Saskatchewan. The immigrants who built it in 1926 likewise traversed much more than 8,100 kilometers from the ancient former kingdom of Galicia in western Ukraine.
Isolated from the Old World and from nearly everything else, these simple, sturdy farm folk fled two empires and a continent chronically at war with itself in order to build a new life for themselves. The 67 by 39 foot ornate little church, at the very center of that life, thus represented not only religious faith, but the resolute self-reliance and endurance of a people and their way of life.
The story of the mass migration of Ukrainians to the vast, unpeopled prairies of western Canada around the turn of the 20th century is writ in such churches, usually accompanied by adjacent burial grounds in which equally distinctive hand-wrought crosses commemorate the lives of parishioners. From 1891 until the outbreak of WWI, 170,000 Ukrainians emigrated to western Canada, drawn by the promise of 160-acre homesteads and assistance from the Canadian government—which was in need of farmers to further a boom of wheat production—to transport them by way of the newly completed Canadian Pacific Railway.
They were mostly Galicians, Bukovinians, and Austro-Hungarians who shared the common language of Ukrainian, although no such nation yet existed. On census forms from this time, most identified their nationality as Austrian and "tribe" as Ukrainian. Poland, Russia, Turkey, and Hungary had all variously fought for control of their homeland, a verdant agrarian area rich with forests, valleys, and rivers, but a land from which few Ukrainians were able to eek out anything beyond a mere subsistence level existence. These were a people only a few generations removed from serfdom, which had been abolished in 1848. Its vestiges remained; most of the arable land, pastures, and the forests belonged to the gentry. Peasants paid to farm, and were also subject to conscription into the military. At the time of the mass migration, more than 200,000 peasant farmers had engaged in an agrarian strike. 
They found comfort in their faith and in their stalwart sense of community. In Canada, they found freedom and, eventually, prosperity. Many arrived with almost nothing. Often, a family's first dwelling out on the cold winds of the prairie would simply be a hole covered with branches and sod.  Early Ukrainian churches were made out of logs and mud. Even their fellow farmers out on the prairies wondered at the arrival of these poor, otherworldly farmers.
But they worked together, and thrived together; the $10 investment in filing for a homestead would result, within three years, in outright ownership of the land, and within a dozen years, as agriculture flourished and the prairie prospered, the properties were valued at more $3,000.
Churches like the one outside Smuts reflected this growing prosperity. The community's first church was constructed in 1905 but burnt to the ground in 1925; the next year, the community pooled together $11,000 and constructed a new church. Ukraine itself is renowned for the diversity and artfulness of its church designs, many of which derive from a time when princes brought Byzantine architects—who drew on Roman, Jewish, and Syrian influences—to build their places of worship. Ukrainians in Canada, usually without the benefit of an architect, built from memory. The Church of St. John the Baptist, with its large octagonal central dome complimented by the two smaller cupolas to form a trinity, thus comes from a lineage stretching back centuries across not only Eastern Europe but the Middle East.