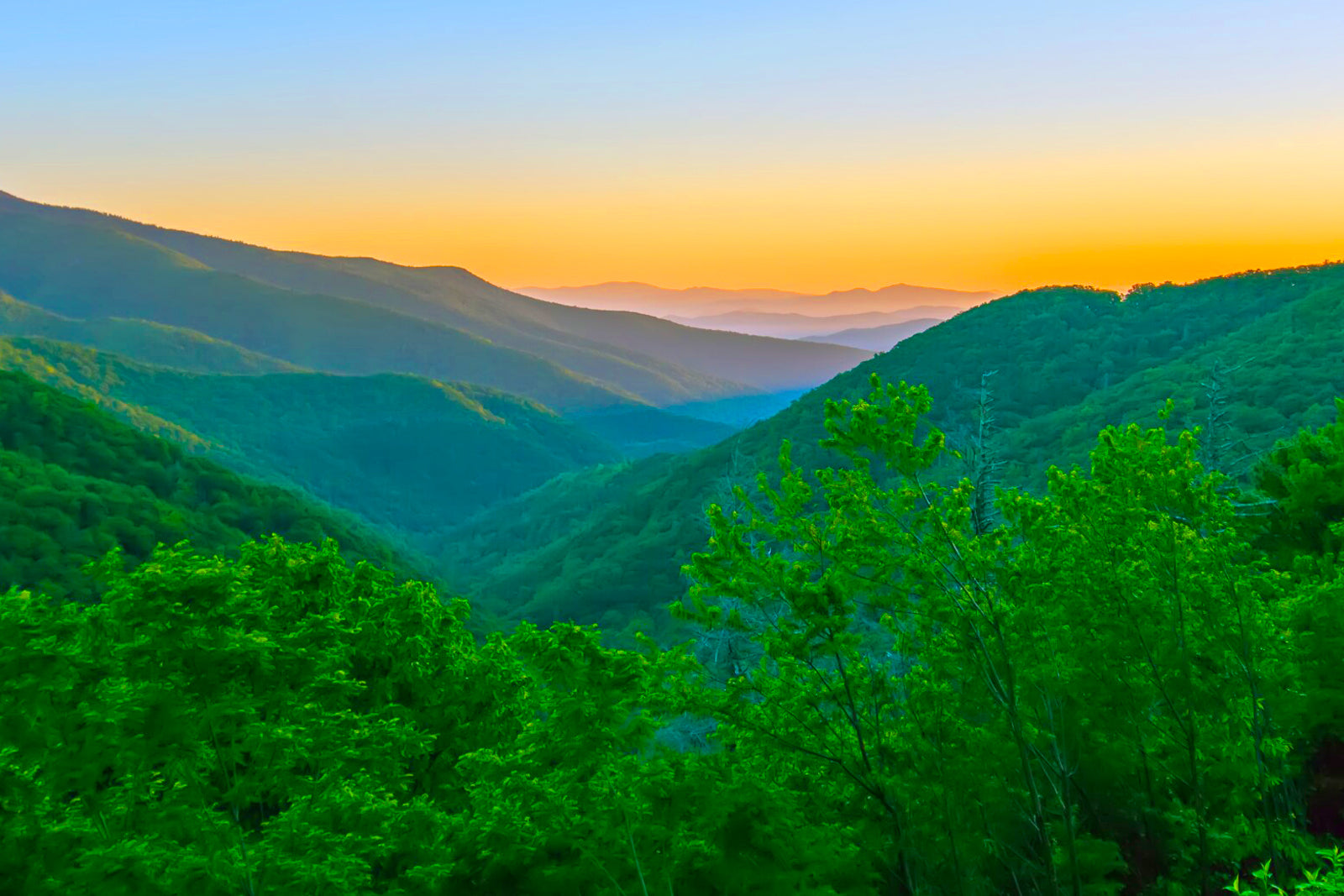 Did you know that spending time outdoors boosts our mental health? When we spend time in nature our stress levels are lower and symptoms of anxiety and depression improve. 
Summer is rapidly approaching and it's the perfect time to plan a relaxing camping trip. But with so many scenic areas in the United States, it's hard to choose. 
If you like lush foliage, abundant hiking trails, and swoon-worthy views, camping in the Great Smoky Mountains ticks all the boxes. 
Continue reading to learn more about the most popular spots for camping in this gorgeous section of the Appalachian Mountain range. 
Facts About the Great Smoky Mountains 
 The Great Smoky Mountains cover more than 500,000 acres in The Great Smoky Mountains National Park. The park covers the eastern side of Tennessee and the western side of North Carolina.  
The Great Smoky Mountains National Park is the most visited national park in the United States. More than 14 million people visited in 2021. 
The nearest major airports are in Knoxville, Tennessee; and Asheville, North Carolina. The Smoky Mountains are also an easy drive from Atlanta, Georgia; Nashville, Tennesee; and Charlotte, North Carolina. 
Wildlife is abundant in the Smoky Mountains. You can expect to see white-tailed deer and maybe the American black bear. More than 200 bird species live here and the region is famous for its many salamander species. 
The Smokies get their name from the persistent but lovely blue haze that hovers over the peaks. 
Camping in the Great Smoky Mountains  
While the Great Smoky Mountains is a dreamy place to camp for anyone, not everyone has the same definition of camping. Also, since the Great Smoky Mountains are within the borders of the national park, camping rules are strict. 
Let's break it down so you'll find the best mountain camping spot for you and your family. 
Backcountry Camping 
Perfect for the true adventurer, backcountry camping is for those who truly want to get away from the hustle and bustle of urban life. Backcountry campers pack everything in and pack everything out. 
Backcountry camping can be a little tricky due to the rules enforced by the national park. Reservations and permits are required for any backcountry camping trip.
Since the Appalachian Trail runs through the park, campsites and shelters are abundant. Let's take a look at some of the best camping spots, backcountry style! 
Campsite 50 at Chasteen Creek Trail
If you're new to backcountry camping, the Chasteen Creek Trail is a good place to get your feet wet, possibly in one of the waterfalls! It's an easy hike from the Smokemont campground, so you'll be close to emergency services if needed. 
This trail and campsite are renowned for their vast swaths of blooming wildflowers in the spring and early summer. 
Campsite 84 at Hazel Creek and Jenkins Ridge Trails 
If you're an experienced backcountry camper, you'll love the solitude of campsite 84. It's about a 15-mile hike, but the absolute silence and immersion in nature are worth it. 
On the Hazel Creek Trail, you'll pass the beautiful Lake Fontana. Once you reach the campsite, you'll likely have the place all to yourself. 
Mount LeConte Lodge and Campsite 31
If taking in the spectacular views of the Smokies is high on your list, then consider the Mount LeConte trail. It's a strenuous hike, but you'll find a rushing waterfall and a bird's eye view of the eastern Smokies from Brushy Mountain at the end. 
Mount LeConte Lodge offers cabins and meal service if you love to hike but aren't that fond of backcountry camping. Otherwise, campsite 31 is the perfect place to pitch your tent. 
Tent Camping 
If a long hike isn't feasible for you, there are many other camping options. Established campgrounds make it easier as you can drive your car right to your campsite. These campgrounds also offer firepits and toilets but no showers. 
Balsam Mountain Campground
Solitude is what you'll find at Balsam Mountain Campground. At over 5,000 feet, it's the highest established campground in the Smoky Mountains. Temperatures stay cool and biting insects are few. 
The Mile High Outlook is a short hike from the campground, perfect for dreamy sunset views. 
Abrams Creek Campground 
Located right beside its namesake creek, this small campground is still convenient to Townsend, Tennessee. You'll be able to stock up on necessities without a long drive. 
From Abrams Creek Campground, you can hike to Abrams Falls. It's a moderate hike of about 5 miles round trip. Pay attention to wet and slippery rocks near the falls. 
Big Creek Campground 
Big Creek is one of the smaller campgrounds in the Smokies with only 12 tent camping sites. The site provides flush toilets and drinking water. 
Big Creek Campground is the perfect base for longer day hikes in the area. One of the most popular attractions is the Midnight Hole. It's a classic swimming hole near a waterfall, and the surrounding rocks are perfect for jumping into the crystal clear water. 
RV Campgrounds 
An RV is the only way to travel for those who love camping in Tennessee. You have all the comforts of home, but you can drive that home to beautiful campgrounds in the Smoky Mountains. 
Here you'll find a few of the best RV sites that make camping in the Smoky Mountains the perfect vacation. 
Foothills RV Park and Cabins 
If you want to be near Pigeon Forge and Gatlinburg and have fantastic amenities, then Foothills RV Park is your place. The park features wifi, a heated pool, and full RV hookups. They even offer a shuttle to Pigeon Forge and other attractions. 
This well-located RV park is an excellent choice for campers who want to be centrally located and have easy access to hiking trails. 
Camp Riverslanding
Do you like your RV park to feel like an amusement park? If so, Camp Riverslanding is the place to be. 
Also located near Pigeon Forge, Camp Riverslanding offers all the conveniences you need plus a lot of added fun. There's a swimming pool, a game room, and even a dog park! 
Imagination Mountain 
Imagination Mountain is another RV park that offers plenty of fun-filled amenities for people of all ages. They offer a heated pool, ice cream shop, and a mini-golf course. 
This RV park, however, takes it a bit further. They also host nightly movie screenings, karaoke, and the legendary Water Wars water fight during the high season! 
Horse Camping 
Horse lovers know there's nothing quite like trail riding in the wilderness. Many outfitters in the Smoky Mountains offer trail riding. But if you'd prefer to bring your own trusty steed, this is the best campground set up for horses. 
All horses must have a current, negative Coggin's test (equine infectious anemia). 
Anthony Creek Horse Camp
Anthony Creek Horse Camp is strictly limited to campers with horses. The campground offers horse stalls and corrals. Water for the horses can be collected from the nearby creek.
Anthony Creek Trail is accessible from the campground. It's a steep trail but the views from Botes Mountain are impeccable. 
Cades Cove Campground is a short walk away and offers drinking water and a general store. Cades Cove also runs a trail riding stable so be prepared to see numerous horses on the trails. 
Please remember to clean the stalls and corrals after you use them. 
Smokey Mountains Rules and Safety Tips 
Now that you're familiar with the various ways you can go camping in the Great Smoky Mountains it's time to familiarize yourself with the rules. 
Never approach wildlife. Black bears call the Smokies home and can be dangerous when provoked. 
Always store your food correctly. Your food and cooking utensils need to be stored in your car, a food locker, or suspended in a tree. 
Make reservations well in advance. The Great Smoky Mountains National Park is very popular. Book early to ensure your spot is reserved. 
Know your hiking

 

trail etiquette. Downhill hikers give way to uphill hikers, mountain bikers give way to hikers, and hikers and bikers give way to horses. 
Leave no trace. Anything you pack in needs to be packed out. 
Plan Your Summer Camping Trip Today
Camping in the Great Smoky Mountains is a once-in-a-lifetime adventure. The sights and sounds of nature are all around, leaving you with a deep sense of peace. 
You'll also be able to experience the vibrancy of the Appalachian culture displayed through art, music, food, and local crafts. A visit here is an opportunity to experience some of the most spirited history in the United States. 
Browse our other articles or contact us to learn more about travel in the Great Smoky Mountains.