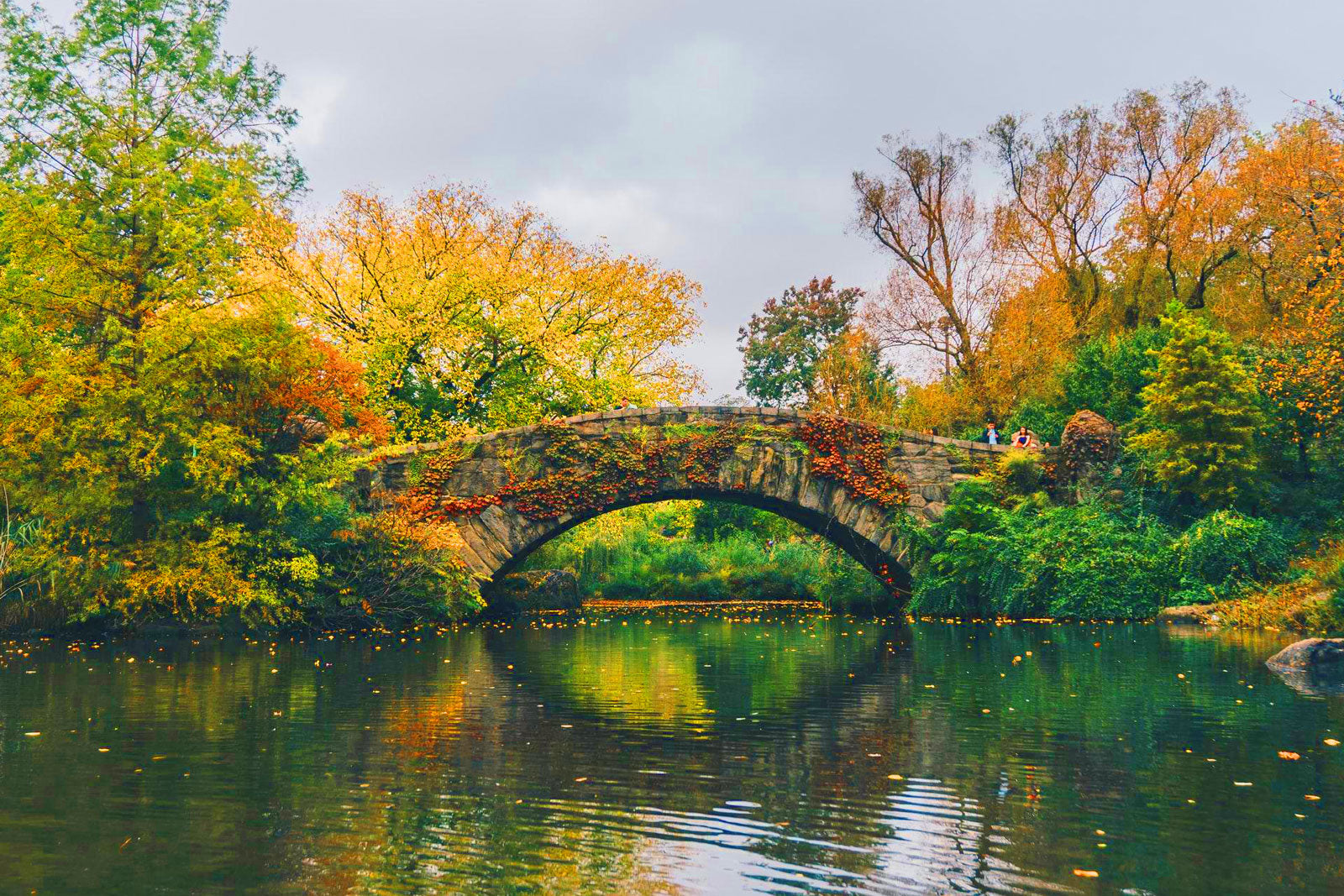 One of the top things to do in New York City is exploring the Gapstow Bridge in Central Park. Although part of multiple pedestrian arches, this bridge is a gem in its own right. The ardent traveler will love the photogenic location with postcard views of the city skyline as the movie fanatic reminisces about their favorite on-screen characters who walked the bridge's steps.
Naturally, New Yorkers and tourists often flock to Gapstow Bridge which offers nothing but tranquil beauty. Age isn't a factor here as the young and old enjoy walking across the serene environment. Read on to learn more about this iconic New York City arch bridge.
Gapstow Bridge in Central Park: The History
Central Park is a vast park with waterfalls, artificial lakes, wooded areas and even a zoo. With so many delightful attractions, it attracts a massive number of people. Therefore, the park's designers developed a comprehensive system of paths and carriage drives for visitors to have an easy time discovering the landscape.
However, there was a potential for pedestrian traffic to collide in one form or another. The design team integrated arches and bridges like Gapstow to cross over other transport forms, paying keen attention to the placement on the park's landscape. That helped limit interactions and to maximize the limited movement space.
Spanning both ends of Central Park's pond and only a 3-min walk from the Central Park Zoo, Gapstow Bridge on 62nd street is hard to miss as you enter the park's southeast corner. Its creation dates back to 1874 from the designs of Jacob Wrey Mould, a renowned New York City architect who designed Belvedere Castle and Bethesda Fountain as well. Although beautiful to the eye, the wooden bridge with cast-iron railings was delicate and couldn't stand the test of time due to too much wear and tear.
Luckily, the brilliant architects Howard & Caudwell later came to save the worn-out arch. They designed the Manhattan Schist Stone bridge as we see it today to offer a long-lasting solution. The stone replacement was constructed in 1896 and has lasted more than a hundred years.
The Traditional Yet Breathtaking Architecture
One thing that makes a Central Park visit worthwhile is surveying its ornamental arches. The park mostly features traditional architecture with simple finishes. Gapstow is one such arch covered with vines, seamlessly blending with the surrounding grass slopes and water.
Architecture and design aficionados may notice the bridge's resemblance to Italy's medieval arch bridge, the historic Ponte di San Francesco in San Remo. However, don't be fooled by the simple design. This arch is a classic with lots of beauty in store for you.
The simple design replaced the more intricate wood and cast-iron bridge. The former bridge deteriorated in about two decades, while the latter construction has lasted over a century. Architects paid attention to functionality and sustainability while renovating the arch.
The Arch as You Know It Today
The current Gapstow stone bridge comprises schist stone. Its 12-foot-high arch extends over 44 feet of Central Park's pond water at the base. The design also integrated striking 76-foot-long sidewalls that stretch the entire bridge.
As you step onto the bridge and face south, you'll view New York City's skyscrapers as they tower over the surrounding trees. Turn west and feast your eyes upon Hallett Nature Sanctuary's vast woody hill. And when you finally look north, there's the ice-skating rink — Wollman Rink.
The easy way to access Gapstow is by entering Central Park, which sits in the middle of Manhattan. You can take the corner of Fifth Avenue and Central Park South and head down the path to the pond's perimeter. Once at the pond, go to its northeastern end to begin your Gapstow adventure.
An Oasis of Serenity
While it's not known as an architectural masterpiece, Gapstow Bridge in Central Park is a delight to many due to its aesthetic beauty. Many locals pass by to watch the ducks swimming in the pond below and relax after a tiring day. The bridge also offers commanding views of the surroundings, full of breathtaking natural scenery year-round.
Besides basking in infinite beauty, visitors happen to be in one of the finest photography locations in Central Park. Manhattan's skyline and the panoramic views against a pond are a few things that make Gapstow Bridge a favorite photo and romantic escape spot. It's no wonder many people choose to propose or hold their weddings on the beautiful bridge or near the pond.
Visiting Gapstow doesn't need elaborate planning or reasoning. Central Park's entrance is free, hence open to visitors without any restrictions. Whether you need a peaceful place to think, or perhaps you're feeling low, you can pass by the bridge for some quality time.
Why Is Gapstow Famous?
Gapstow is a familiar name to many people. If you haven't already heard of it, seeing it might jog your memory. The bridge has featured in multiple television shows and movies over the past decades, making it a familiar sight.
That's why Gapstow Bridge is among Central Park's most recognizable attractions. Anyone who loves movies is likely to feel like they're on the set of one when they walk across the arch. Many films have repeatedly used this historic spot as a set or backdrop for scenes, thanks to its massive size and endless possibilities:
Home Alone 2: Lost in New York

Enchanted

Fantastic Beasts and Where to Find Them

Rescue Me

The Devil Wears Prada

Gossip Girl's Season 2 episode named Remains of the J

Sex and the City's season 6 episode titled Let There Be Light
The Gapstow Bridge is one of the most photographed locations in Manhattan due to its uniqueness and fame. While most movie locations look better on the set than in real life, this arch is an exception. Many people laud it for being more attractive in person.
Explore Gapstow Bridge Like a Pro
There are no stringent rules to visiting New York City's Gapstow Bridge. The location is open daily from 6:00 am to 1:00 am, per Central Park's open hours. That gives you plenty of time to enjoy the picturesque vicinity.
You can take your little ones on an outdoor adventure of the bridge from their favorite movies. Or maybe you would like a romantic escape with your better half. No matter the case, hiking across the bridge and into the surroundings can give you a fun day out.
But are you aware that you could add to the fun by bike riding across the arch? This pedestrian path is safe for bike rides for any family member who can ride. Bike riding across the bridge within a tranquil atmosphere can be pretty therapeutic.
Save Gapstow Bridge's Memories in Art Print
You don't have to forget the pleasing scenery and wonderful time at the bridge whenever you step out of Central Park and go back to your routine. It's easy to have a little piece of Gapstow Bridge in your living or business space by integrating art. Art prints give you the perfect way to capture Gapstow and remember the good moments at the arch.
It would be in your best interest to partner with a top-notch art company regarding art purchases. That's the only way to guarantee quality service. A stunning canvas or art piece of New York's Gapstow bridge can be great wall art for your living room that captivates anyone who sees it and brings about the exact emotion you experienced at the park each time you look at the piece.
Gapstow Bridge in Central Park is also a big part of New York City's culture and people. While art reminds you of your travels, it also helps capture culture. An artist can portray the bridge's aura in the art to remind you of the culture and the people of New York City. Other benefits of purchasing landscape art include:
Linking with nature while indoors. One gaze at the scenic painting, and you'll feel a connection with mother nature.

Owning a timeless piece of beauty. A quality art painting can be as breathtaking in 100 years as when you first bought it.

Bringing about a calming influence. Landscape art, like music, has a way of releasing tranquility in the spaces they inhabit.

Enhancing your mood. With a well-crafted art piece of Gapstow Bridge in your home or office, you may get positive vibes and emotions as you'll remember a good memory.

Soothing your soul. Connecting with nature can provide a sense of calm and tranquility, lowering your body's blood pressure and cortisol (stress hormone) levels and helping evade the chances of anxiety or depression.
What Kind of Gapstow Art to Get?
There's so much to think about than the typical pricing question when purchasing an art piece. As aforementioned, it's wise to select the artist carefully. An experienced scenic landscape artist with a portfolio of exquisite products in stock would be good to consider.
Another thing to think about is the type of product you need, whether a print or canvas with a frame or unframed. You will also have to decide on the size of the art piece. Remember that large-scale products often evoke more emotions and are more visually appealing than their smaller counterparts.
Fortunately, you don't have to know all the answers. All you need is to contact the art professionals and get expert insight. Besides, you can get a custom-made piece per your specifications.
Get a G.O.A.T Art Piece
You don't have to be an art connoisseur to enjoy artistic pieces. Novice art lovers and professionals alike can save adventures via art and revamp the interior decor. G.O.A.T, House of Creative is ready to deliver works of fine art at an affordable cost — contact us now to request a scenic art piece or inquire about wholesale deals.